Story
Take a Hike with Your Kids on National Trails Day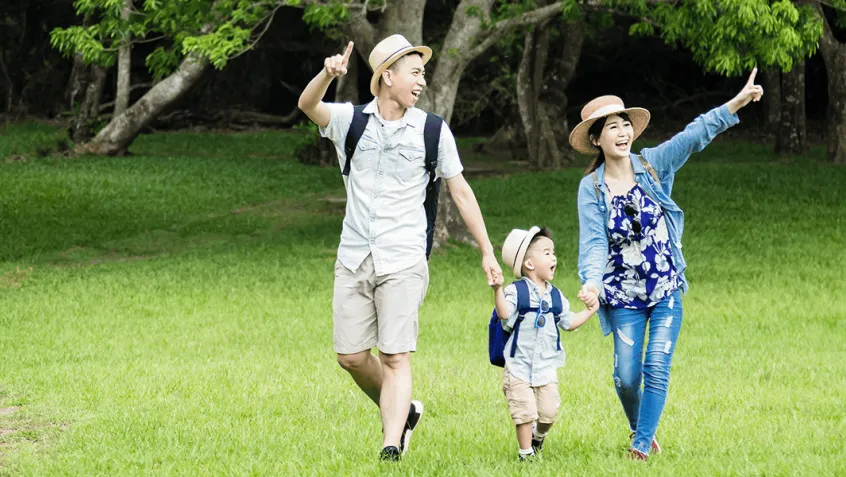 National Trails Day is the first Saturday in June and provides the perfect opportunity to go hiking with your family and share your love of being outside. Bringing your kids hiking means experiencing the magic of the outdoors in a whole new way, according to Wesley Trimble, communications and creative director at the American Hiking Society.
Trimble has thru-hiked the Colorado Trail, climbed all 54 of the state's 14,000-foot peaks, and finished several ultramarathon trail races. But everything changed the first time he took his daughter (now four years old) out for a hike.
"Hiking with kids looks different than hiking by yourself or with other adults," said Trimble. "The focus changes. It's not about reaching a number of miles or a specific destination. It's about the micro-adventure unfolding before their eyes." 
Image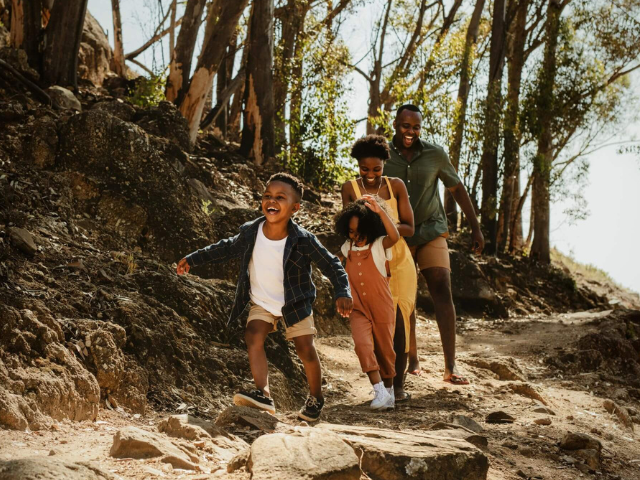 Find the Perfect Trail for Kids
Finding the right trail for your child can be intimidating if you don't know where to look. Trimble recommends the online family trail guide from Hike It Baby, a nonprofit organization that helps parents and kids get outside.
"Remember, no one size fits all. Cater to your child's interests," Trimble said. "It doesn't have to be some epic national park or Instagram-famous spot."
Pick a trail that isn't too long so your child doesn't tire out or lose interest. To keep everyone safe, avoid heavy elevation gain, intense rock scrambling, and sharp drop-offs.
While other trail apps are geared toward adults, the Hike It Baby trail guide includes community-sourced trail descriptions to help you decide which ones are a good fit for your child. Trimble also recommends the book "Families On Foot" by Jennifer Pharr Davis as a great resource for the ins and outs of hiking with kids. If you are bringing along a furry member of the family, don't forget to look for dog-friendly trails. 
"You can also learn from other people who are already hiking with their kids by connecting with local families or meet-up groups," said Trimble.
Once you find a trail that suits your needs, Trimble suggests adding the hike to your family calendar. If it's on the calendar, there's a better chance of making it happen.
Image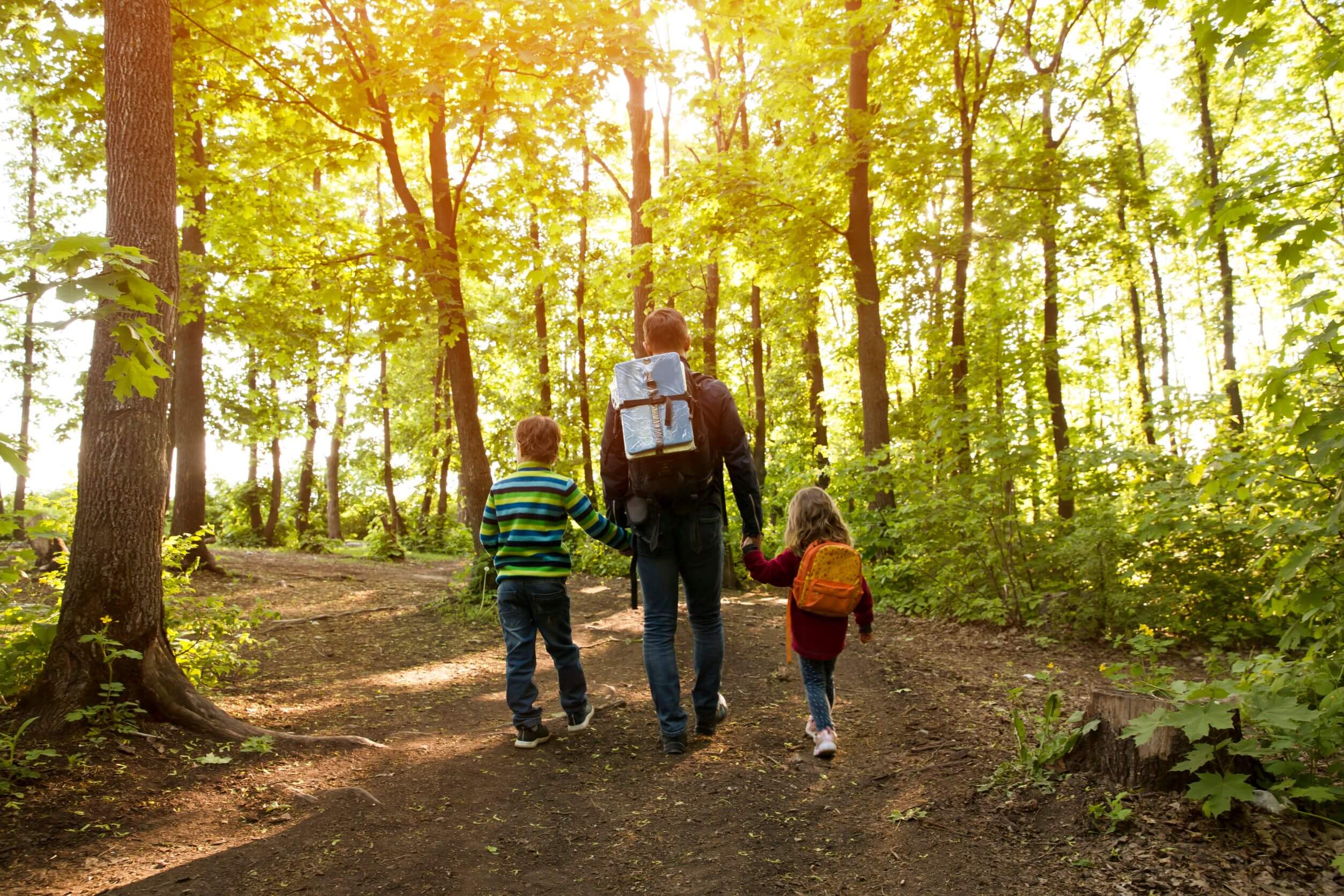 When Hiking with Kids, Pack Smart
What's inside your hiking backpack also changes once you have kids.
"Before having a kid, I could have everything packed and be at the trailhead in a matter of minutes. Now the whole process of planning, getting dressed, and out the door adds a lot of time," said Trimble.
Packing for a hike with children doesn't have to be overwhelming, however. Start by becoming familiar with the "ten essentials" that hikers of all ages should bring with them whenever they hit the trail. Below are some additional kid-centric items to consider:
Clothing Layers: Kids have a low tolerance for temperature changes. Bring layers of clothing that can easily be added or removed.
Water: If your child is old enough, have them carry their own water and bring an extra bottle in the car for after the hike.
First Aid Kit: Update your first aid kit to be geared toward your child, including any medications they require.
Whistle: Make sure they know how to use it and understand what to do if they get separated from the family while hiking.
Outfit Change: Bring an extra outfit for your child in case they get dirty or wet while on the trail, which is likely.
Post-Hike Shoes: Slippers or flip flops to wear during the car ride home makes everyone feel a bit more comfortable.
Child Carrier: Even if your kids are walking, pack your child carrier in the car just in case. You never know when a toddler will be too tired to walk.
Perhaps most importantly, don't forget the motivating effects of food. Bring along some of your child's favorite treats to help them get to that next milestone on the trail.
"Our family motto is 'will hike for snacks,'" said Trimble.
Image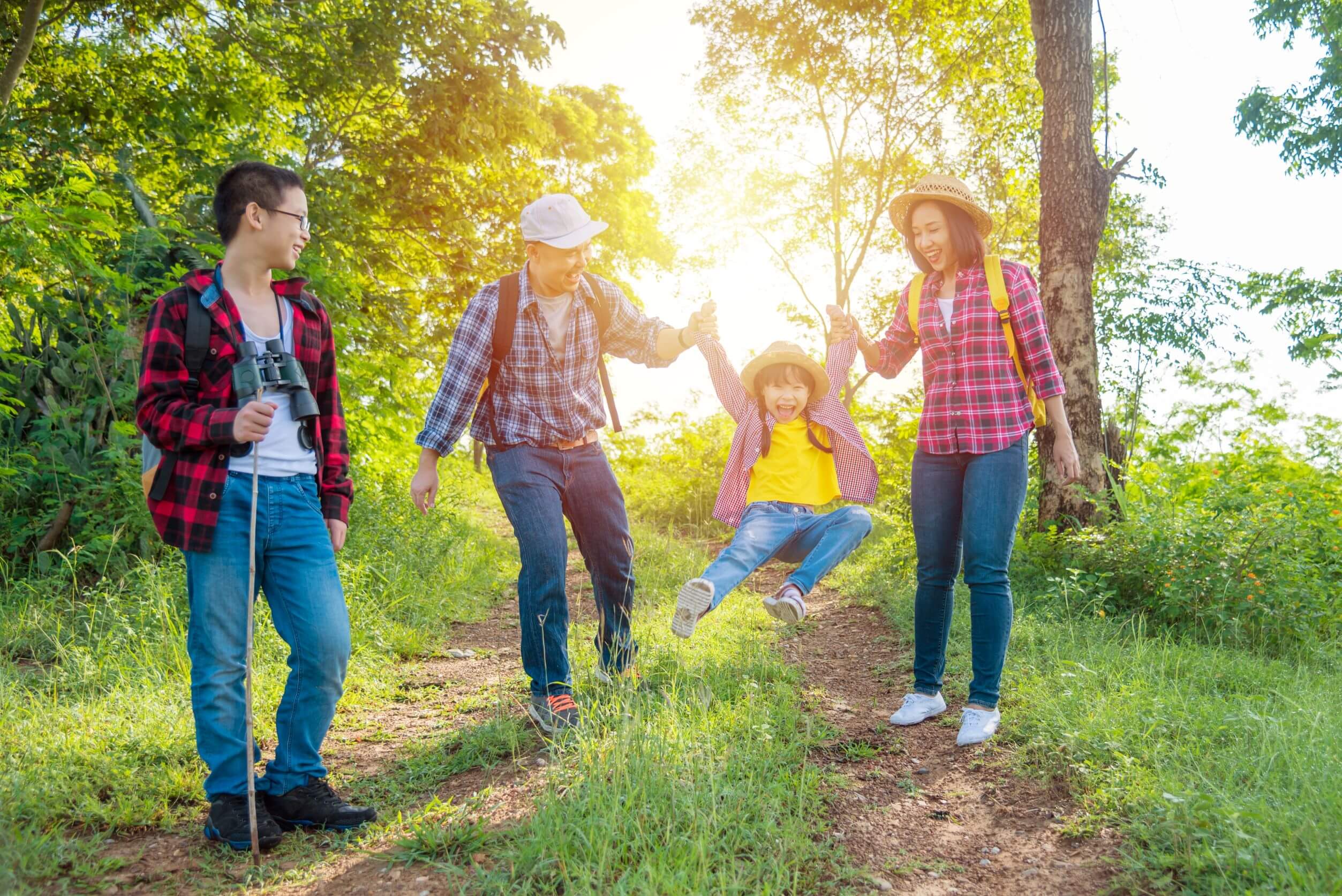 Turn Your Hike Into a Game
After choosing the trail and packing the necessary gear, the last thing you want is for your hike to be derailed by boredom. "Motivating kids on trail can be a challenge," said Trimble. 
Turning everything into a game helps kids enjoy all the benefits of being outdoors. Below are a few suggestions for hiking activities with kids. 
Hiking Bingo: Download the free app, head out on a trail, and start looking for the items on the bingo grid with the goal of finding five in a row.
Nature Box: Take an old egg carton and paint each segment a different color. When you go out for a hike, find natural items that match each color painted on the egg carton. Hold on to the items in your egg carton until the end of your hike so you can see how many you were able to collect. When leaving to go home, scatter the items back onto the forest floor so that you are following Leave No Trace principles. (More inspiration is available online at the American Hiking Society's Kids Corner.)
ABCs in Nature:  Starting with the letter "A," name something you see in nature starting with each letter of the alphabet. 
Follow the Leader's Footsteps: During a winter hike, one person is appointed the leader (take turns) and that person makes a path through the snow while the rest follow in their footprints. Make the trails fun by zig-zagging, writing someone's name, or winding around trees. (Find more ideas like this on the Hike It Baby website.)
Sensory Play: The outdoors is full of new things for babies to explore. Let them crawl around new terrains and pick up new materials like rocks, sticks, sand, or mud (under supervision, of course).
Junior Ranger Activities: If you are planning a visit to a national park, learn about the National Park Service Junior Ranger Program, which includes environmental education activities geared toward kids between ages five and 13.
Get Kids Involved on National Trails Day
After helping your kids find a favorite trail, you can help them understand the role they play in taking care of it.
This year's National Trails Day event happened on June 3 and offered events across the country focused on trail stewardship. Many of them include activities geared toward kids, such as naturalist talks, sensory exhibits, trail treasure hunts, or post-hike s'mores.
"These events teach a sense of caring for the places that we love, even from an early age," said Trimble. "It is great to see kids empowered, build new skills, and instill that sense of giving back to leave the trail better than you found it."
Image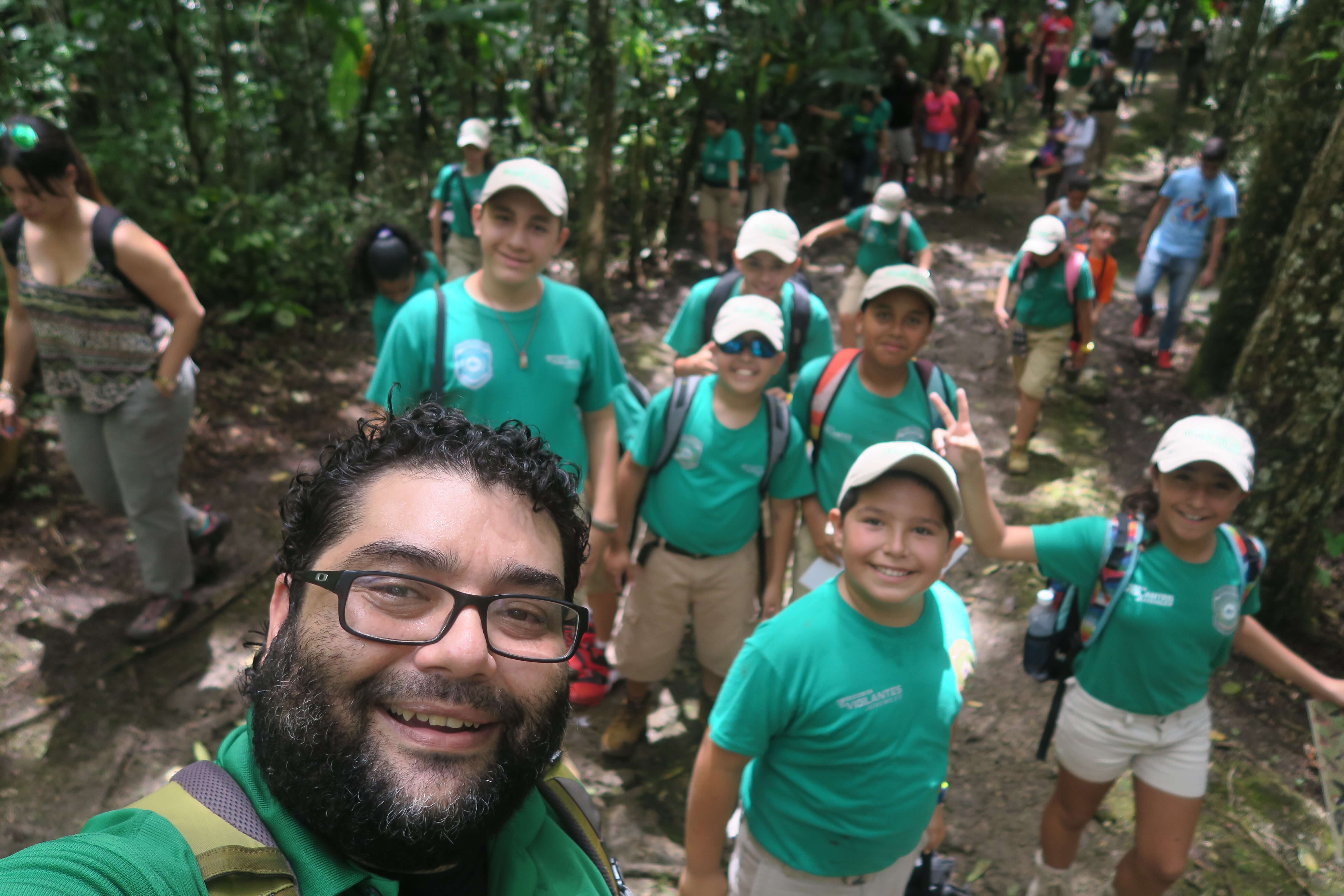 Here are three ways your family can get involved on National Trails Day:
Take the 2023 National Trails Day Pledge: "In honor of #NationalTrailsDay, I'll leave the trail and the outdoor community better than I found them."
Find a trail service project on National Trails Day, or sign up for a trail project later this year. Share your impact on social media by tagging @americanhiking and #NationalTrailsDay.
Commit to taking a trash bag with you whenever you hike or go for a walk.
Remember that National Public Lands Day in September is another great opportunity to show your appreciation for the outdoors!
Topics