Story
Show Your Love for Public Lands This Winter By Volunteering
Looking for environmental volunteering opportunities during the winter months? These are just a few examples of the types of positions that are waiting to be filled on Volunteer.gov, the central clearinghouse for volunteer opportunities and events on federal public lands:
How to Get Started Volunteering
Explore Volunteer.gov to discover environmental volunteer opportunities that fit your ability and time availability. Some require specific knowledge and skills. For others, a willingness to volunteer is all you need. And some are even virtual — meaning you can support public lands from anywhere with an internet connection. 
Each year, Volunteers-In-Parks (VIPs) are involved in every aspect of park operations and management at National Park Service sites. Volunteers provide campground hosting, trail maintenance, and visitor services at National Forest lands. They lead tours, restore habitat, conduct plant and animal surveys, and remove invasive plants with the US Fish and Wildlife Service. Volunteers also contribute to many Bureau of Land Management program areas, including recreation, cultural and historical resources, and environmental education.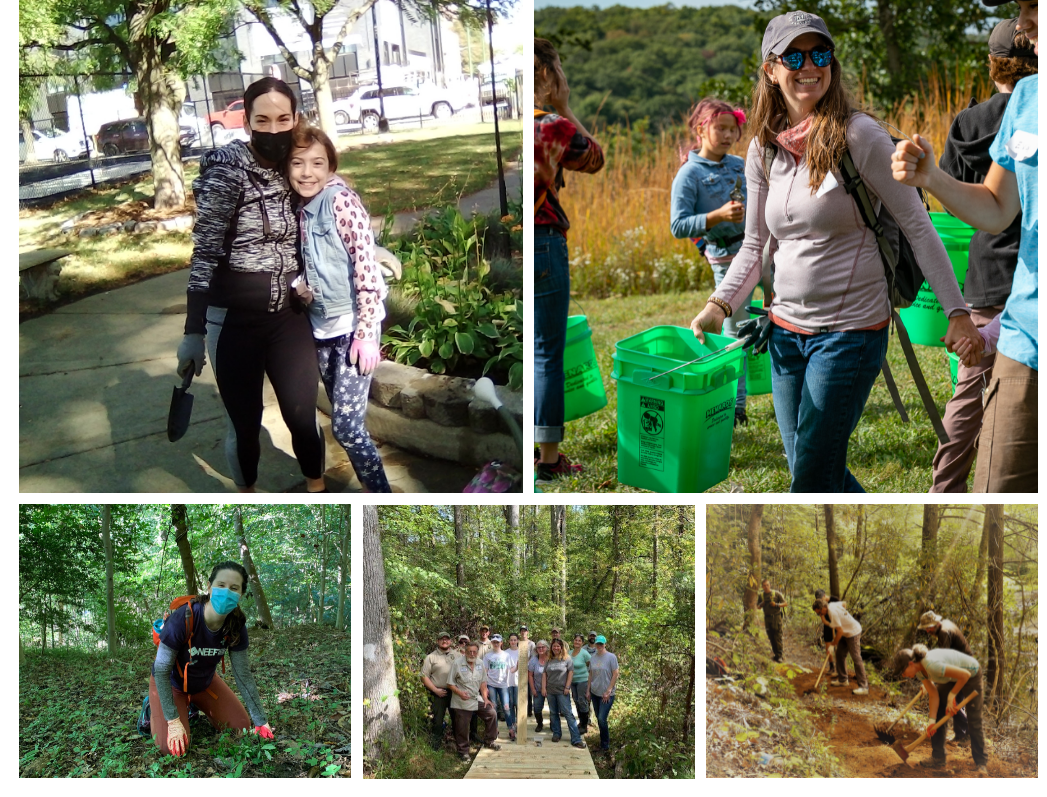 If you aren't able to take on an ongoing volunteer role at this time, you can also search Volunteer.gov for one-time volunteer events. And it's never too early to start planning ahead for the next National Public Lands Day, held annually on the fourth Saturday in September. More than 500 events were hosted across the country on NPLD 2021, engaging over 50,000 volunteers who helped with trail maintenance, park and river clean-ups, invasive species removal, and other beneficial activities. 
Looking to host a NPLD event of your own? Here are ten tips from experienced NPLD event organizers for how to effectively rally volunteers.
Inspiring Stories of Public Lands Volunteers
The important role of volunteers in supporting public lands was formally acknowledged by the Volunteers in the Parks Act of 1969, which established the National Park Service's Volunteers-in-Parks program. Since that time, a countless number of individuals have donated their time and talents across all federal agencies. The US Forest Service estimates that between 1979 and 2019, 3.28 million volunteers served a total of 141.1 million hours through the agency's Volunteers & Service Program.
While every volunteer makes an impact, some people go above and beyond. Case in point: the National Wildlife Refuge System's remarkable "10,000+ hour club" members. These volunteers have donated what amounts to roughly five years of full time work, representing $240,000 in savings to wildlife refuges. Read the stories of some of these super volunteers on the US Fish & Wildlife Service website.
NPLD also benefits from some extraordinary volunteers, including Alan Spears, who launched a volunteer program at the Kenilworth Park and Aquatic Gardens in Washington DC. He explained the sense of satisfaction that comes with volunteering: 
"Volunteering is a lot of fun. […] Clearing out the lotus and the water lilies is an exhausting project but it leaves people with a true sense of accomplishment. At the beginning of the day those ponds are full of floating stems. By the end of the day, they are all cleaned up and look great." 
Gerald Miller has attended at least 23 NPLD events in Nevada. He shared what volunteers experience at events he has hosted at public lands, including the South Fork State Recreation Area: 
"They'll find out they've worked harder than they've ever worked before, they'll find camaraderie, laughter and almost everybody learns a new skill. We'll be planting trees and working trails," said Miller. "Whether it's how to use a different piece of equipment, or how to build a post and rail fence, everybody goes home with a little bit more knowledge than they came with because you learn from so many different people."
May Toy has helped host a number of NPLD events as president of the Skinner Park Advisory Council in Chicago. She understands that stewardship is an important value to pass on to future generations:
"Our ultimate goal is to grow community and inspire more people, especially children, to care for our public spaces," said Toy. "It's important that people understand the role they play in ensuring that parks are here for future generations. If we don't educate children when they are young to care for our public lands, they won't as adults."
The Many Benefits of Volunteering
Volunteering on public lands gives you the opportunity to spend time in nature, one of the most reliable boosts to mental and physical well-being. The health benefits are one great reason to get outside and care for public lands while meeting new people in your community.
If you or a loved one need access to free and confidential mental health resources, the CDC has more information.
 
Aside from the feel-good benefits of giving back, volunteers with 250 service hours with federal agencies including the Bureau of Land Management, Bureau of Reclamation, US Fish and Wildlife Service, US Forest Service, National Park Service, and US Army Corps of Engineers can earn an annual pass to federal public lands as a "thank you!" for their hard work.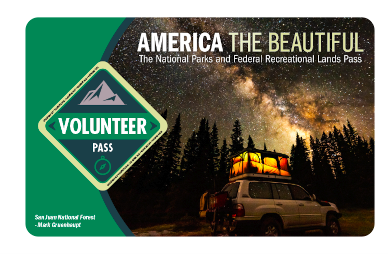 Where will volunteering on public lands take you this winter? From coast to coast, and even online, the opportunities to get involved are endless.
 
Topics