Story
Volunteers Tackle Trail Maintenance on Public Lands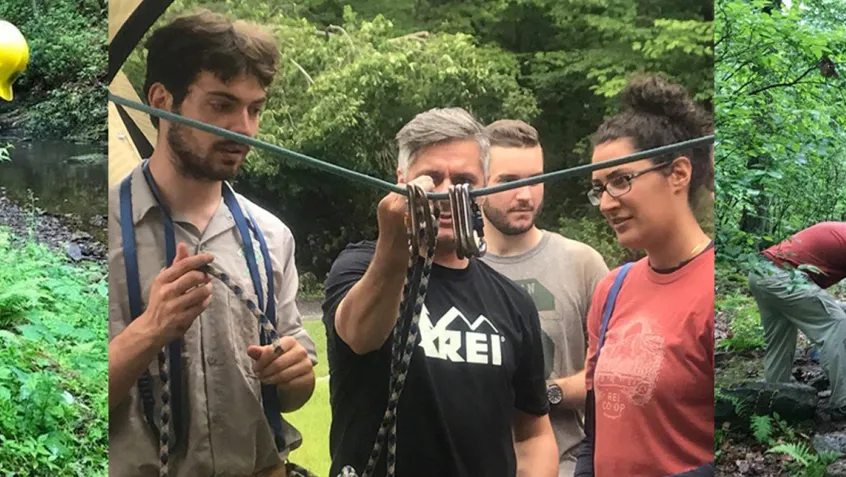 It was a damp and drizzly June morning at the Delaware Water Gap National Recreation Area. Staff from the National Park Service (NPS), New York/New Jersey Trail Conference, Appalachian Mountain Club, and REI, eagerly awaited volunteers to arrive. Cars bearing license plates from Pennsylvania and New Jersey filed into the parking lot. Despite the morning's weather, spirits were bright.
As everyone registered for the day, it was clear that while the 43 volunteers were of different ages, came from different locations, and had different experiences with public lands, they all valued their public resources enough to lend their hands in service.
Located less than two hours away from New York City and Philadelphia, the Delaware Water Gap is among the top 25 most-visited units of the National Park System. Many folks visiting the park enjoy spectacular hikes along the Delaware National Scenic River, Kittatinny Ridge, and Appalachian National Scenic Trail. The Delaware Water Gap is a great, family-friendly, location for anyone to get outside and visit nature.
Although the recreation areas in the Delaware Water Gap are loved and used by many people, this love can certainly take its toll on the landscapes and trails. Erosion, litter, and trampling of pristine areas are common issues that park staff must manage. Volunteers bring the skills and energy that are essential in maintaining natural and cultural resources, educating other visitors about Leave No Trace, and expanding the capacity of park staff to address other issues they may not otherwise have time for.
On June 17, 2017, volunteers gave back to their trails by picking up trash, restoring visitor-created "social" trails (informal trails created by erosion due to foot traffic), installing bog bridges and water bars, and working on other trail improvements. Volunteers were able to experience how their day of work helped the trails, and more importantly, how their efforts--however small they may have seemed at the beginning of the day--fit into the larger picture of public land stewardship and improved the recreation area as a whole.
"Our first event was very successful and generated a great deal of interest," said Delaware Water Gap Park Ranger Kathleen Sandt. "So we decided to do it again, but this time, we have expanded the program."
National Public Lands Day is an annual stewardship day that provides opportunities for people to give back to their public lands. This year, National Public Lands Day is highlighting the 50th anniversary of both the Wild and Scenic Rivers Act and the National Trails System Act, both celebrating half a century of protecting rivers and trails. The Delaware Water Gap is home to two areas protected under these acts - the Middle Delaware National Scenic River and the Appalachian National Scenic Trail.
Activities on the National Public Lands Day agenda include a camping trip and other outdoor learning opportunities in addition to trail maintenance. Since the event was announced in late July, volunteers expressed their excitement and have already filled all 80 available spots. Partners and sponsors this year will be providing supplies, food, or interpretation and include; New York/New Jersey Trail conference, Appalachian Trail Conservancy, Appalachian Mountain Club, REI, and Subaru.
Although National Public Lands Day at the Delaware Water Gap is at full capacity, there are events taking place around the nation. Check out this website to learn more about National Public Lands Day and what events are happening near you.
"Thank you for the work that you do in the park," said Sandt. "Remember, [public lands] belong to everyone and everyone should take the opportunity when they can to enjoy the pristine waters and beautiful lands that [they] offer."
Thanks to our partners at the National Park Service for contributing this story. Written by Kelleen Lanagan.
Topics