Story
Embrace the Outdoors to Beat the Winter Blues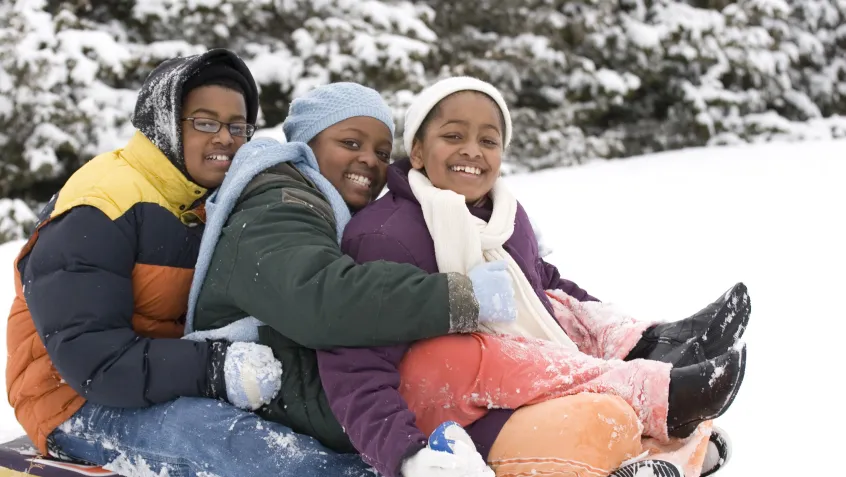 Winter is in full gear across the country. Roads are icy, days are snowy, and puffy jackets are in style. For some, winter brings the excitement of skiing, snowboarding, or searching for animal tracks in the snow. For others, the cold-weather months keep many indoors, avoiding the constant chill of wintry weather. For those who enjoying exercising or staying active outside during the warmer months, winter can put a hiatus on these activities. Although it can feel more difficult to get active outside during cold weather, there are many enjoyable ways to get moving outdoors this winter—101 ways, at least!
The Association of Fish and Wildlife Agencies has created "101 Things to Do Outside in Winter," a guide that includes activities ranging from mindful walks in the park to exciting scavenger hunts. Click here for the full list, but first check out ten highlighted winter activities below. You can:
Watch the sunset
Go ice skating
Do a "power walk" in your neighborhood
Photograph winter scenes
Build a snowman
Drink hot chocolate outside—or even have a picnic
Go for a nature walk
Go sledding
Visit a nature center or nearby park
Have a snowball fight—or play catch with friends and family                  
Not only are these outdoor activities fun, but the simple act of being physically active in nature holds a host of benefits for the body and mind. A systematic data review in 2011 found that exercising in natural environments was associated with greater feelings of revitalization and positive engagement, decreases in tension, anger, and depression, and increased energy. In 2014, another study in England found that group walks in nature were associated with significantly lower depression and perceived stress, as well as enhanced mental well-being. These benefits are especially important during winter months, when a lack of outdoor activities and sun exposure can contribute to Seasonal Affective Disorder (SAD): the onset of depression during the wintry months when less natural sunlight is available. Getting outdoors, even in colder weather, can help you soak up some necessary vitamin D.
On a final note, one of the most important factors in staying active during the wintry months is dressing warmly. Layer up, put on a hat and gloves, and get moving outdoors!
Click here to access the Adult Health and Nature Fact Sheet
Click here to access the Children's Health and Nature Fact Sheet 
Sources
Association of Fish and Wildlife Agencies. n.d. "101 Things to Do Outside in Winter." Accessed February 7, 2018. http://www.fishwildlife.org/files/101ThingsWinter.pdf
Coon, J. Thompson, K. Boddy, K. Stein, R. Whear, J. Barton, and M. H. Depledge. 2011. "Does Participating in Physical Activity in Outdoor Natural Environments Have a Greater Effect on Physical and Mental Wellbeing than Physical Activity Indoors? A Systematic Review." Environmental Science & Technology. dx.doi.org/10.1021/es102947t.
Marselle, Melissa R., Katherine N. Irvine, and Sara L. Warber. 2014. "Examining Group Walks in Nature and Multiple Aspects of Well-Being: A Large-Scale Study." Ecopsychology 6(3): 134-47. doi:10.1089/eco.2014.0027.
Topics